If you're a first-time home buyer, or a previous home owner and you've been making regular KiwiSaver contributions for 3 – 5 years, you may be eligible for a First Home Grant of up to $10,000.
You need to apply for the grant through Kāinga Ora and there are two ways that you can apply.
Either app;lying for a pre-approval before you start looking for a property to buy so you have certainty around your eligiblity and how much you may qualify for, or you can apply for a grant approval if you've found a property and have a signed sale and purchase agreement.
This Is For First Home Buyers
This First Home Grant is designed for Kiwis that are over 18-years old and first home buyers.
You must have a 5% deposit.
This can include money from your KiwiSaver first-home withdrawal and from your First Home Grant approval/ pre-approval amount, plus any savings or money gifted from a close family member.
As it is to help you to buy your first home you must agree to live in your new house for at least 6 months.
There is an option for people that have previously owned a home too, but extra conditions apply.
How Much Is The Grant?
If you are buying an existing home you can get $1,000 for each of the 3 (or more) years you've paid into the scheme to a maximum of $5,000 if you have been in KiwiSaver for 5 or more years.
If you buy a new home or land to build on, you can get $2,000 for each of the 3 (or more) years you've paid into the scheme to a maximum of $10,000 if you have been in KiwiSaver for 5 or more years.
But there is other criteria that you need to meet.
House Price Criteria
The house that you plan to buy needs to be within the house price cap form the area.
The table below shows the current price caps;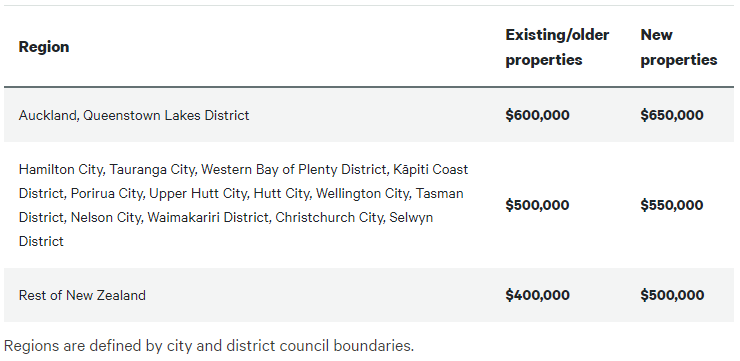 Existing properties are any houses that were built and certified more than 12 months ago.
New build properties include:
newly built dwellings that received a building code compliance certificate less than 12 months before the date you apply for the First Home Grant
vacant sections that will be built on
house and land packages or apartments purchased off the plans.
Income Caps
Of course you will need to be able to afford the loan repayments as per the bank policy, but to be eligible to receive the First Home Grant you also need to ensure that you do not exceed the income caps;
$85,000 or less before tax for a single buyer
$130,000 or less before tax for 2 or more buyers.
To calculate the income you use your taxable income as per the IRD tax summary for the 12 calendar months before you apply, or for self employed that would be for the last financial year to 31st March.
Learn More About Buying Your First Home
You can learn more about the First Home Grant on the Kāinga Ora website, but if you want to know everything about financing and buying your first home then the Pathways to Home Ownership is the best resource.